Tech1000
Part Number WRT 1000
The Next Generation in TPMS Tool is based on Bartec's latest platform design. Today's automotive service professional needs tools that are scalable and are easy to learn and operate. Think of the Tech1000 as a "TPMS tablet" capable of doing everything that you would expect from a Bartec service tool, only MUCH more!
The Tech1000 is first and foremost a TPMS Tool. The Tech1000 offers a brand new user experience. A graphical touch screen will make TPMS diagnostics service easy and fast! More than anything however, the Tech1000 is flexible and scalable solution!
The Tech1000 is a truly wireless tool beginning with the way the tool is updated. All you need is a Wi-Fi connection and your tool will always be up to date with the latest and greatest coverage and sensor applications. Through the same connection, the Tech1000 will communicate with the Bartec Service Center.
Work begins with the wireless VCI [OBDII] connected to the car. Using the VINdicate® process, the Tech1000 can detect and decode the VIN faster and much more accurately. As an option, the Tech1000 features a comprehensive bar code reading solution. The Tech1000 can read all forms of barcodes including 1D, 2D, QR, Inverse and Data Matrix style bar codes.
Think of the Tech1000 as a rugged tablet capable of handling the complete range of TPMS service including diagnostics, sensor programming, placard adjusting, and relearns. But, the Tech1000 is so much more than TPMS. Applications for functions like Battery Management, Oil Light Reset, Steering Angle Reset, and DPF filter reset will be available for purchase.
Tech1000 Features
Works with all known OE TPMS Sensors
Provides Test Before Touch diagnostics
Comprehensive TPMS Audit Report tells your customer what they need to know
Performs Stationary and OBD Relearns
Works with Aftermarket Multi-Protocol Sensors like Redi-Sensor™, DVT™, and MultiPRO™
Programming of the popular aftermarket replacement sensors. The Tech1000 can program EZ-sensor®, Sens.it™, Smart Sensor™, Qwik Sensor™ and other Orange™ style sensors
Wireless Bluetooth to quickly send data reports to a Service Center or printer
Wi-Fi tool software updating and connectivity to SERVICE CENTER
Inductive, wireless charging [pad included] for quick and easy charging
Passive / Keyless Ignition Testing
Wireless Vehicle Connection Interface
---
Features
Graphical User Interface
Touchscreen
Completely wireless including VCI
Internet connectivity
High resolution camera
Bar code scanning technology
Scalable software platform
Top Benefits
Easy to learn and easy to operate
Faster diagnostics and service
Communicate wirelessly between, vehicle, tool, other devices and Service Center
Send data from the tool to remote sites
Scan VIN's, license plates and take photos of key vehicle issues
Scan the bar code to initiate the service process
Flexible software means the tool grows with your business
Tech1000 Support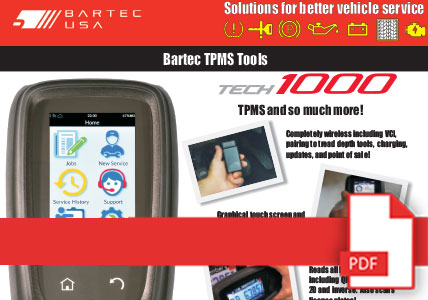 Tech1000 Brochure
---