Tech300Pro
Part Number WRT300PRO
The Tech300Pro is the entry level TPMS tool in the range of Bartec's Pro Series TPMS tools. The Tech300Pro is a brand new platform from Bartec and delivers the same tried and true function our customers come to expect, but with our latest technology. The Tech300Pro is purchased as an activation only tool. However, this is no ordinary activation tool as it has exciting features typically found in more advanced TPMS Tools. While it works with all known OE TPMS sensors, it also can program aftermarket sensors and it works with Multi Protocol Sensors! The Tech300Pro also features wireless Bluetooth and the classic Bartec Process Driven Menu flow.
The Tech300Pro is perfect for the potential customer that is weary of investing in a higher end tool. The Tech300Pro offers excellent value, features and benefits, in a entry level activation tool. The real value add to this tool is the ability to be upgraded to a TPMS Scan Tool. The end user can purchase the OBDII upgrade kit and snap it into place and they now have a TPMS Scan Tool capable of OBDII relearns, fault code detection and TBYT coms. The tool can also be purchased pre-assembled, at a price point identical to the current TECH400SD. Once upgraded the Tech300Pro has all the features of the Tech400Pro with the following exceptions: Wi-fi, Placard, and Passive Entry/Keyless Ignition Testing.
As such, the Tech300Pro works on more than 93% of vehicles that REQUIRE OBD communication, and is the ONLY tool that offers OBD coverage on vehicles like Chrysler, Ford, GM and Volvo. This means a single work flow and faster service, a shorter learning curve for technicians.
Tech300Pro Ideal For...
Tire, Lube and Express Shops. Automotive Repair Facilitates with scan tools, OE Dealers with their brand scan tools. The Tech300Pro is the tool most sought after as it has excellent TPMS capability, combined with the added punch of Wi-Fi updating, passive / keyless ignition testing and a range of accessories second to none.
Tech300Pro Features
Works with all known OE TPMS Sensors
Provides Sensor Test Before Touch diagnostics
Performs Stationary Relearns
Works with Aftermarket Multi-Protocol Sensors like Redi-Sensor™, DVT™, and MultiPRO™
Programming of the popular aftermarket replacement sensors. The Tech400Pro can program EZ-sensor®, Sens.it™, Smart Sensor™, Qwik Sensor™ and other Orange™ style sensors
Wireless Bluetooth to quickly send data reports to a computer or printer
Inductive, wireless charging [optional pad not included] for quick and easy charging
Removable SD Card for updating without internet
All backed by the very best in class TPMS Technical Support team!
UPGRADED TOOL ONLY - Robust OBDII Cable system for greater durability
UPGRADED TOOL ONLY - Comprehensive TPMS Audit Report tells your customer what they need to know
UPGRADED TOOL ONLY - Does not need "assisted relearn patch cable"
UPGRADED TOOL ONLY - Performs Stationary and OBD Relearns
UPGRADED TOOL ONLY - Performs TBYT OBD Comms
Standard ONE YEAR factory warranty
Comes with ONE YEAR of software updates
---
Features
Scalable TPMS Tool Technology
Wireless Bluetooth Data Transfer
Programs the popular aftermarket TPMS Sensors
Inductive, Wireless Charging
Top Benefits
An upgradable tool means you decide when you need greater TPMS function
Works seamlessly with your OE or Aftermarket Scan tool making TPMS repair fast and easy
Greater vehicle coverage means saying YES to customers more often
Easy to learn, easy to operate means anyone in your business can use this tool
Comprehensive Health Report makes discussing TPMS with your customers confident and easy
Tech300Pro Support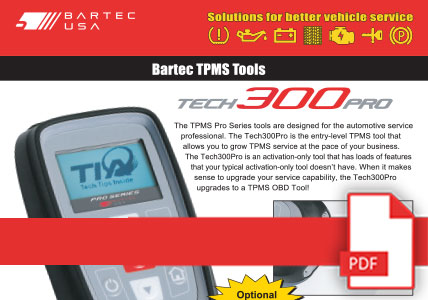 Tech300ProBrochure
---