TechRITEPro
Part Number WRTTRP100
The newest TPMS innovation from Bartec is the TechRITEPro!
The TechRITEPro combines high powered functionality with incredible affordability!
Engineered from the "ground up," this brand new TPMS Tool from Bartec was designed to offer technicians of all levels high powered functionality at an entry level price. The TechRITEPro also serves as a Rite-Sensor® programmer and includes the Bartec exclusive Rite-Sync® technology. Like its big brother the Tech600Pro, the TechRITEPro has a easy to learn graphical user interface and menu flow.
The newest TPMS innovation from Bartec is the TechRITEPro! The TechRITEPro combines high powered functionality with incredible affordability! The "TRP" is an easy to use TPMS Diagnostic Tool, TPMS Relearn Tool, and Rite-Sensor® programming Tool
TechRITEPro Features
High Resolution Color Display
Graphical User Interface
Long Lasting, Rechargeable Battery
Removable/Replaceable Battery
Improved LF Signal and UHF Detection
Faster Tool Response and Operation
Heavy Duty OBDII Cable/Connector
1 Year Warranty / 1 Year's Software
---
Technical Specifications
2.8" High Resolution Color Display
2.3Ah LiPo Battery
Dimensions: 8" tall x 4" wide x 1.5" deep
Weight: 13.5 ounces
Enclosure: Rugged and Ergonomic
Vehicle Connection: Wired/OBDII, J1692 connector both ends
Languages: English, French and Spanish
Compliance: FCC and IC Approvedm
TechRITEPro Kit
TechRitePro Tool
HD OBDII Cable
Power Supply Adapter
Quick Start Guide
RiteSensor®
Programs the Bartec Rite-Sensor® Feature market Exclusive Rite-Sensor® Programs EZ-Sensor®, Intellisens®, Sens.it® and REDI-Sensor®
TechRITEPro Support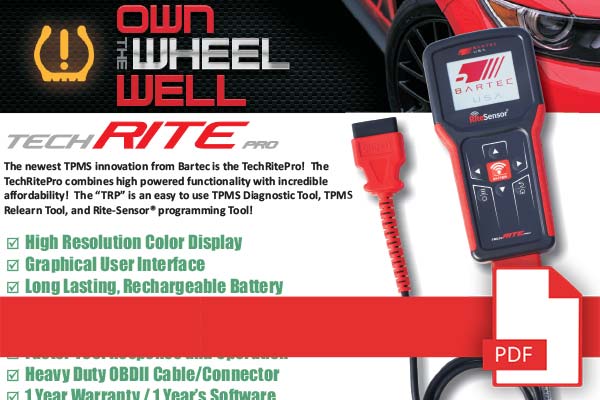 TechRITEPro
---