Tech400Pro
Part Number WRT400PRO
The most advanced, mid range All-In-One TPMS Service Tool. The ONLY TPMS Scan Tool with Wi-Fi, Bluetooth, Inductive Charging AND Passive / Keyless Ignition Testing
The Tech400Pro is the mid range solution in Bartec's Pro Series range of TPMS tools. What was the TECH500 tool, is now the Tech400Pro [with a new overlay] Bartec delivers the same tried and true function our customers come to expect, but with the latest technology. The Tech400Pro works on more cars, is even faster, and offers features and benefits to make your shop more efficient. The Tech400Pro is wireless TPMS, wireless charging, wireless data transfer [Bluetooth], keyless entry testing and wireless updating [Wi-Fi]. The Tech400Pro was designed so that anyone in your tire shop or repair facility can use it! TPMS is hard enough, the service tool you use should be easy and intuitive. The Tech400Pro uses the Bartec Process Menu Flow. Start with TEST BEFORE YOU TOUCH and finish with the all-important RELEARN, and you have a job done, quickly and accurately.
The Tech400Pro works on more than 93% of vehicles that REQUIRE OBD communication, and is the ONLY tool that offers OBD coverage on vehicles like Chrysler, Ford, GM and Volvo. This means a single work flow and faster service, a shorter learning curve for technicians.
Tech400Pro Ideal For...
Tire Shops, Automotive Repair Facilities, Branded Auto Repair Companies, any automotive service company that services wheels and tires. The Tech400Pro is the tool most sought after as it has excellent TPMS capability, combined with the added punch of Wi-Fi updating, passive / keyless ignition testing and a range of accessories second to none.
Tech400Pro Features
Works with all known OE TPMS Sensors
Provides Test Before Touch diagnostics
Comprehensive TPMS Audit Report tells your customer what they need to know
Performs Stationary and OBD Relearns
Works with Aftermarket Multi-Protocol Sensors like Redi-Sensor™, DVT™, and MultiPRO™
Programming of the popular aftermarket replacement sensors. The Tech400Pro can program EZ-sensor® , Sens.it™, Smart Sensor™, Qwik Sensor™ and other Orange™ style sensors.
Wireless Bluetooth to quickly send data reports to a computer or printer.
Wi-Fi tool software updating
Inductive, wireless charging [pad included] for quick and easy charging
Passive / Keyless Ignition Testing
Removable SD Card for updating without internet
Robust OBDII Cable system for greater durability
Does not need "assisted relearn patch cable"
All backed by the very best in class TPMS Technical Support team!
Standard TWO YEAR factory warranty
Comes with TWO YEARS of software updates
---
Top Features
Advanced TPMS Scan Tool Technology
Comprehensive OBD relearn coverage
TPMS Placard Adjusting Capable
Programs Aftermarket Replacement Sensors
Wi-Fi and Bluetooth Capable
Passive Entry / Wireless Key Capable
Top Benefits
Built in flexibility means greater choice in sensor solutions and the ability to fix more cars
Greater vehicle coverage means saying YES to customers more often
Wireless updates via Wi-Fi so you never have to worry about being out of date
Comprehensive Health Report makes discussing TPMS with your customers confident and easy
Two year warranty and software included means worry free ownership
Tech400Pro Support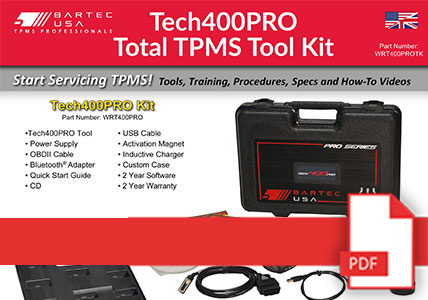 Tech400Pro Brochure
---