Tech600Pro
Part Number WRT600PRO
Introducing the very latest in TPMS Service Technology, the Tech600Pro!
The Tech600Pro is all about speed, accuracy, and ease of use with the specific purpose of helping tire businesses improve the bottom line!
The wireless capabilities of the Tech600Pro make it the fastest TPMS tool available in North America! TPMS relearns take just seconds! Connect the wireless VCI to the OBDII port and in mere seconds the Make-Model-Year are detected and decoded and the tool is ready for action!
Because Bartec works with all Original Equipment and Major Programmable sensors in the market, our data is accurate and so are our tools. The Tech600Pro coverage is second to none! Fix more vehicles with the Tech600Pro! Combine our data with VINDicate®
The TECH600Pro represents the very best in TPMS Technology for all levels of tire shop management. The graphical user interface makes the TECH600Pro very easy to learn and operate! Using RITE-SENSOR® and RITE-SYNC®, the TECH600Pro makes TPMS Service a breeze!
Tech600Pro Features
2.8" High Resolution Color Display
2.4 GHz WiFi
Long Lasting LiPo Battery
QI [inductive] Charging
What's New?
Intuitive, icon-based menu flow
Includes English, French and Spanish
RITE-SYNC® Relearn/Sensor Process
TPMS Diagnostics through OBDII
Live Wi-Fi Tool Updating
VCI loss prevention warning system
The first time the tool is turned on, it will guide the user through tool registration and gain access to Bartec's PC-based Program - TPMS Desktop
---
Top Benefits
Graphical User Interface
Wireless tool updates
Wireless data transfer
More TPMS service per battery charge
Wireless charging
Built to withstand the tire shop environment
Faster Workflow
TPMS Service in half the time
VINDicate® quickly identifies the vehicle and configures the tool
Wireless VCI makes relearns twice as fast
Graphical interface allows technicians to quickly navigate the menus
Tech600Pro Support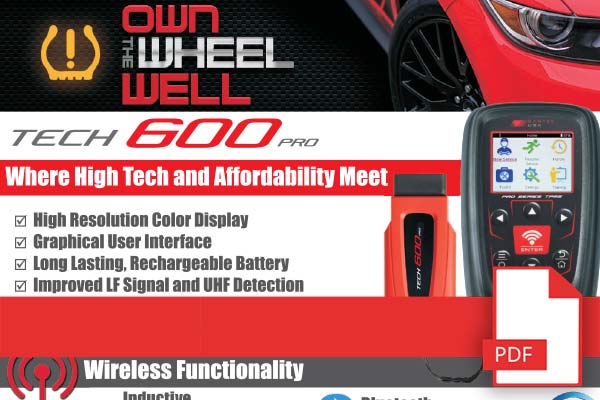 Tech600Pro Brochure
---