Tech450Pro
Part Number WRT450PRO
The Tech450Pro is the DIRECT REPLACEMENT for the wildly popular Tech400Pro! The Tech450 is the most advanced, mid-range All-In-One TPMS Service Tool.
The Tech450Pro works on more cars, is even faster, and offers features and benefits to make your shop more efficient. The Tech450Pro is wireless TPMS, wireless charging, wireless data transfer [Bluetooth], and wireless updating [WiFi]. The Tech450Pro was designed so that anyone in your tire shop or repair facility can use it! TPMS is hard enough, the service tool you use should be easy and intuitive. The Tech450Pro uses the Bartec Process Menu Flow. Start with TEST BEFORE YOU TOUCH and finish with the all-important RELEARN, and you have a job done, quickly and accurately. The Tech450Pro works on more than 95% of vehicles that REQUIRE OBD communication and is the ONLY tool that offers OBD coverage on vehicles like Chrysler, Ford, GM and Volvo. This means a single workflow and faster service, a shorter learning curve for technicians.
Tech450Pro Ideal For
Tire Shops, Automotive Repair Facilities, Branded Auto Repair Companies, any automotive service company that services wheels and tires. The Tech450Pro is the tool most sought after as it has excellent TPMS capability, combined with the added punch of WiFi updating, and a range of accessories second to none.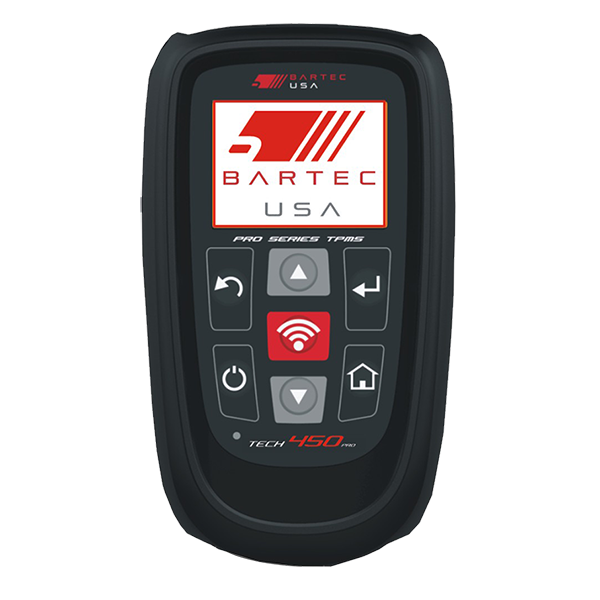 ---
Tech450Pro Features
Works with all known OE TPMS Sensors
Provides Test Before Touch Diagnostics
Comprehensive TPMS Audit Report tells your customer what they need to know
Performs Stationary and OBD Relearns
Programming of the RITE-SENSOR® and other popular aftermarket replacement sensors like, Schrader EZ-sensor®, Huf IntelliSens®, Redi-Sensor® Unlock, Dill 5002, PDQ TPMS, JSP Steelman Select, Dynamic Pro-Select and Aligator sens.it®
Works with Aftermarket Multi-Protocol Sensors
Wireless Bluetooth to quickly send data reports to a computer or printer
WiFi tool software updating
Inductive, wireless charging
Robust OBDII Cable system for greater durability
All backed by the very best in class TPMS Technical Support team!
Standard TWO YEAR factory warranty
Comes with TWO YEARS of software updates
Tech450Pro Support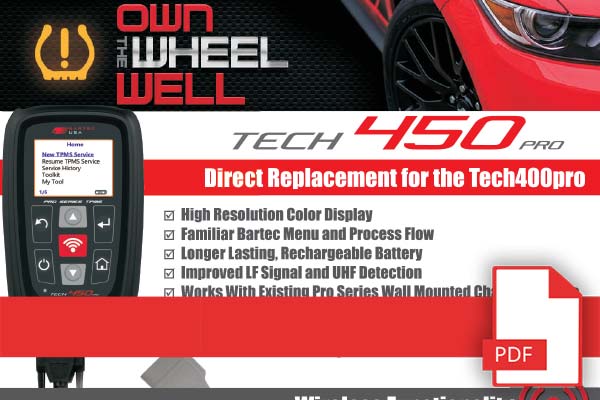 Tech450Pro Brochure